Introducing We Love Parquet
Dedicated to excellence in flooring, We Love Parquet was launched in 2018 by parquetry experts Ivan Kirton and Wail Daftar.
We Love Parquet had its beginnings in Kirton Fine Parquetry, which had been in the flooring business since 2009, honing skills and customer service and transitioning to more specialised areas of timber flooring.
The origins of We Love Parquet go back many years. Wail and Ivan met in Technical College when they were studying flooring technology and have since worked together in the flooring industry. Their diverse family histories, individual expertise and industry backgrounds are complementary when working on flooring installations.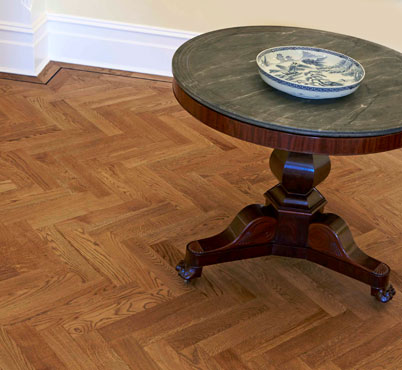 READ MORE >
Ivan is a third-generation parquetry installer. The family tradition in parquetry goes back to Fred Greaves who saw active service in World War II. He served as a Grenadier Guard and was involved in the famous Allied military plan known as Operation Market Garden. In England after the war, he started working in parquetry, starting the chain of events that continues today with We Love Parquet.
After moving to Australia, his sons Terry and Chris continued Greaves Parquetry, operating in the Sydney region for more than 45 years. Ivan Kirton began working in the family business in 2004 and won the Employee of the Year Award from the Australian Timber Flooring Association.
Wail comes from a long line of jewellers, tracing his family line in Iraq back 3000 years. When war came to Iraq, Wail and his family moved first to Bulgaria, then to Australia. Wail initially trained as a jeweller, following in his father's footsteps, until he started in timber flooring and began working with Ivan.
Wail brings to his work the attention to detail and custom processes that are essential when creating fine jewellery, and this translates to a high level of finish on each floor. Wail is especially gifted in sanding and polishing of the timbers we install.
Continuing the family traditions of parquet flooring and fine jewellery craftsmanship, Ivan and Wail founded We Love Parquet.
At We Love Parquet we aim to exceed industry standards in the installation and sanding of our parquetry floors. Our family names and history stand behind every floor we install, sand and polish. We use quality timbers and market leading equipment to ensure our clients are getting the best result possible. We install and sand our floors completely in-house to ensure the highest level of quality control.
Ivan and Wail are dedicated to attention to detail and set the highest standards of craftmanship. Both Ivan and Wail understand customer needs and you will find them and their staff easy to work with to deliver the flooring best suited to customer requirements.
We believe that wood has a life force. When you hold a handcrafted violin or guitar; admire antique wooden furniture; walk into a home with a beautiful wooden floor; you are reminded that wood has a history and a sustainable future. In our business, the laying and finishing of beautiful wood floors is a family tradition, with the skill taught across three generations.
To us integrity and respect for the timber is important. Parquetry floors are the most sustainable product in wood flooring; they are designed to last decades and even centuries. Our business We Love Parquet advocates the sustainable use of wood in construction.

I was fortunate to be apprenticed to Terry and Chris, to learn the techniques of the trade and keep the same dedication to detailed workmanship. Wail and I are continuing those high standards of expertise and respect for the integrity of the timber with We Love Parquet.
READ MORE >
We lead the industry in the installation and sanding of parquetry floors, and we proudly stand by our work by guaranteeing every floor we install. We use only the highest quality timbers, and world-class equipment for installations to ensure our clients are getting the best for their investments.
At We Love Parquet, we lay and sand our floors completely in-house, with quality control at every stage of the process.
Being industry leaders, we consistently achieve excellent standards of workmanship. Our clients are pleased with our professional approach and our thorough understanding of the job requirement is a key to our success. We have built our business on our ability to meet the high standards required in wood flooring.
Director and founder, Ivan Kirton is committed to quality and customer satisfaction. Known for his down-to-earth personality, you will find him and his staff easy to work with.
OUR RECOGNITIONS
We have been the recipients of various awards for our work in the wood flooring industry. For more than 10 years we have been members of ATFA, the Australian Timber Flooring Association, an organisation whose vision includes improving the effectiveness, quality and competitiveness in the industry. You can be assured that your floor is in good hands.
Importantly, the quality, dedication and integrity we personally build into every one of our parquetry timber floors is reflected in the many testimonials we receive from our satisfied customers; their recommendations speak for themselves.
To arrange a consultation for your requirements, call Ivan Kirton on 0449 022 373.